Daily diet affects leukocyte trafficking
High fat diet modifies plasmacytoid dendritic cell trafficking and function in adipose tissue
25.03.2022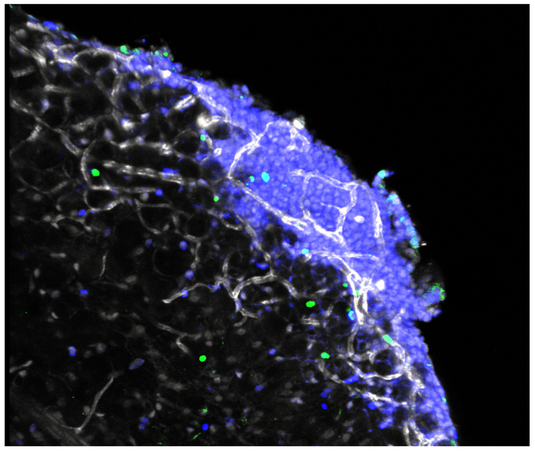 lymphoid cluster in visceral adipose tissue
blue: CD45+ (hematopoetic cells), green: SiglecH (pDCs), white: CD31 (vessels)
"Overweight and obesity, defined as excessive adipose tissue accumulation, have grown to epidemic proportions, with over 4 million people dying each year according to the global burden of disease" (World Health Organization, WHO). Overweight and obesity are a risk to health as it can trigger severe secondary diseases such as diabetes, arteriosclerosis, or heart attacks.
As part of a new study, a group led by Dr. Susanne Stutte and Professor Barbara Walzog shows that a high-caloric diet, even for a period of only three weeks, has drastic effects on the immune system. Consumption of a high-caloric diet fundamentally alters the homeostasis of plasmacytoid dendritic cells (pDCs), particularly in the visceral adipose tissue. An in-depth analysis of the migratory dynamics of pDCs in adipose tissue reveals that circulating pDCs follow a tissue-specific multi-step adhesion cascade to home to fat tissue. With high-caloric diet the trafficking properties of pDCs change dramatically and become reminiscent of the homing mechanisms that direct pDCs to inflamed lymph nodes as demonstrated by the newly established in vivo imaging of visceral adipose tissue in collaboration with Z01 (Hellen Ishikawa-Ankerhold).
Furthermore, high-caloric diet also profoundly affects the phenotype and function of pDCs in adipose tissue as evidenced by the upregulation of activation markers and increased type 1 interferon expression. When blocking pDC infiltration into the adipose tissue, the weight gain during consumption of high-caloric food is prevented and glucose tolerance is improved. This hitherto unknown modulation of pDC homeostasis by high-caloric food sheds new light on the impact of our daily diet on the complex interplay between the immune system and adipose tissue - a topic that is of great clinical importance.
The results of this study, which was carried out in collaboration with Harvard Medical School in Boston, could now contribute to the development of new approaches toward a therapeutic intervention of the metabolic syndrome.
The authors published the article "High fat diet rapidly modifies trafficking, phenotype and function of plasmacytoid dendritic cells in adipose tissue" in the Journal of Immunology and it was selected as "Top Read Article" in March 2022.
Collaborative effort:
First author Susanne Stutte is member of the SFB914 (A02) and the project greatly benefited from a close collaboration between colleagues of projects A02 (PI Daniela Maier-Begandt & Barbara Walzog), Z01 (PI Hellen Ishikawa-Ankerhold), A10 (PI Christian Schulz), and B10 (PI Ludwig Weckbach).
Publication:

High-Fat Diet Rapidly Modifies Trafficking, Phenotype, and Function of Plasmacytoid Dendritic Cells in Adipose Tissue. Susanne Stutte, Hellen Ishikawa-Ankerhold, Lydia Lynch, Sarah Eickhoff, Simona Nasiscionyte, Chenglong Guo, Dominic van den Heuvel, Daniel Setzensack, Marco Colonna, Daniela Maier-Begandt, Ludwig Weckbach, Thomas Brocker, Christian Schulz, Barbara Walzog and Ulrich von Andrian. J Immunol, 208 (6) 1445-1455, 2022.
Contact:
Dr. rer. nat. Susanne Stutte
Institute of Cardiovascular Physiology and Pathophysiology
Walter-Brendel-Center for Experimental Medicine
Biomedical Center
LMU München
Großhaderner Str. 9
D-82152 Planegg-Martinsried
+49 (0)89 2180-71523
Susanne.Stutte@med.uni-muenchen.de