Cutting Edge Technologies in the Life Sciences
Joint Event Life Science Campus Großhadern/Martinsried - July 23, 2015
23.07.2015 13:00 – 19:00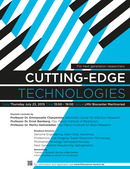 The graduate programs of the Life Science Campus Großhadern/Martinsried are jointly hosting an event on cutting-edge technologies in life science on July 23, 2015.
Hear keynote speakers who have developed groundbreaking methods (CrisprCas and Optogenetics) and have visionary ideas for the future (Connectomics). Participate in Breakout Sessions with local pioneers in application of a wealth of cutting-edge techniques in practice on the Campus Großhadern/Martinsried.
Keynote Lectures:
Professor Dr. Emanuelle Charpentier, Helmholtz Center for Infection Research
Professor Dr. Ernst Bamberg, Max Planck Institute of Biophysics
Professor Dr. Moritz Helmstädter, Max Planck Institute for Brain Research
Breakout Sessions:
Genome Engineering, Stem Cells, Genomics, Proteomics, Live-Imaging, Super-Resolution Microscopy, Photopharmacology, Nanospectroscopy, Next Generation Sequencing, Optogenetics
Networking:
During the coffee breaks thematic Hotspots will provide the opportunity to connect people with common interests, for further discussions and networking. The program continues informally over a barbecue dinner on the terrace.
Participation is free of charge!
Registration (Deadline: July 12, 2015)
Downloads