A novel molecular player in neutrophil trafficking identified
06.03.2013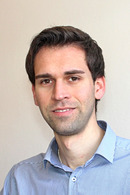 Sascha Jakob and coworkers of SFB 914 identified hematopoietic progenitor kinase 1 (HPK1) as a novel molecular player in neutrophil trafficking. The group found that HPK1 regulates the affinity of LFA-1 and thereby controls adhesion and post-adhesion functions of neutrophils. These processes are critical for efficient neutrophil recruitment to sites of lesion during the acute inflammatory response.
Further studies now have to show whether the absence of HPK1 ameliorates the outcome of neutrophil-driven acute inflammatory diseases and thus may define a novel concept for therapeutic intervention in these disorders.
Sascha Jakob is an MD student in Barbara Walzog´s lab and member of the IRTG "Leukocyte Trafficking". For his studies, he established strong collaborations within the SFB 914, especially with Markus Sperandio and his group. Sascha started his MD project in 2010 as a fellow of the FöFoLe programme of the medical faculty of LMU and subsequently obtained an MD fellowship of the IRTG of SFB 914.
Reference:
Sascha M. Jakob, Robert Pick, Doris Brechtefeld, Claudia Nussbaum, Friedemann Kiefer, Markus Sperandio, and Barbara Walzog. Hematopoietic progenitor kinase 1 (HPK1) is required for LFA-1-mediated neutrophil recruitment during the acute inflammatory response, Blood online 2013.
Contact:
Sascha M. Jakob
Walter-Brendel-Center of Experimental Medicine
LMU Munich
Schillerstr. 44
80336 München
sascha.jakob@lrz.uni-muenchen.de