Scientific Retreat of IRTG 914 in 2017
10.10.2017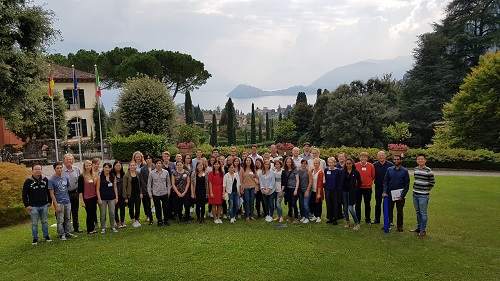 The fifth annual scientific retreat of the Integrated Research Training Group (IRTG 914) took place at the German-Italian Centre at Villa Vigoni in Menaggio, Italy in September 2017. This retreat with the topic "Cell Migration and Function in Inflammation, Development and Disease" was again organized as a joint retreat together with members of the CiM/IMPRS Graduate School from Münster.
All participants presented their current research work to their fellow students, invited guest speakers and PIs of the graduate programs either by oral or poster presentation. The guest speakers Guido Serini (University of Torino, Italy), Jamey Marth (University of California, Santa Barbara, USA), Emilio Hirsch (University of Torino, Italy) and the PIs provided additional scientific background on the presented projects which led to lively discussions about the various projects and beyond. Rupert Hallmann (University of Münster) raised in his talk on "Good scientific Practice and plagiarism" the audience´s awareness on this currently intense discussed topic. In round table discussions on "PhD-and then?" the students talked about different career opportunities after graduation and the possibilities to prepare for that during the PhD. The PIs gave input to that topic and shared their experiences at the universities.
Future meetings of the same format and further collaborations between the two graduate programs were strongly recommended by all participants.