International Meeting of the German Society for Cell Biology
Annual meeting on basic cell biological research in Germany will be held in Munich March 14-16, 2016
22.01.2016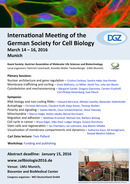 The German Society for Cell Biology (DGZ) will hold the "International Meeting of the German Society for Cell Biology" from March 14–16, 2016 in Munich. The meeting venues are the Biocenter and the BioMedical Center on the campus in Martinsried.
Three PIs of SFB 914 are involved in the meeting as scientific chairs:
Reinhard Fässler: plenary session on cytoskeleton/mechanosensing
Julia von Blume: plenary session on membrane trafficking/sorting
Barbara Walzog: symposium on migration/adhesion
The deadline for the submission of abstracts has been extended to February 7, 2016. Visit the meeting website for more information.