Influence of the internal clock on atherosclerosis
Work by Carla Winter, Oliver Söhnlein and colleagues may improve therapeutic approach
07.06.2018
During atherosclerotic inflammation, characteristic lipid deposits develop on the inner vascular walls of large arteries, which in turn triggers the continuous recruitment of leukocytes to these sites.
The team of Oliver Söhnlein has now shown in mouse models that this recruitment is subject to circadian rhythms: migration to the arterial system on the one hand and to the microcirculation in small veins on the other hand are 12 hours phase shifted.
Combining these rhythmic shifts with insights into the capability of the chemokine CCL2 to inhibit arterial leukocyte migration specifically would potentially improve therapeutic approaches.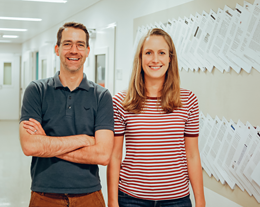 Carla Winter (PhD student) and Oliver Söhnlein (PI of project B08) together with their co-authors published these results in the journal Cell Metabolism. Carla is a member of the graduate program IRTG 914.
Oliver Söhnlein, Carla Winter (Image: LMU)
Collaborative effort
The publication greatly benefitted from close collaborations between three groups within SFB 914. The work of Carla and colleagues of project B08 (PI Oliver Söhnlein) was complemented by input from project B09 (PI Christoph Scheiermann) and project B01 (PI Markus Sperandio).
Publication:
Winter C, Silvestre-Roig C, Ortega-Gomez A, Lemnitzer P, Poelman H, Schumski A, Winter J, Drechsler M, de Jong R, Immler R, Sperandio M, Hristov M, Zeller T, Nicolaes GAF, Weber C, Viola JR, Hidalgo A, Scheiermann C, Soehnlein O. (2018)
Chrono-pharmacological Targeting of the CCL2-CCR2 Axis Ameliorates Atherosclerosis.
Cell Metab. 2018 May 15. [Epub ahead of print]
Contact:
Carla Winter
Institute for Cardiovascular Prevention
Ludwig-Maximilians University Munich
Pettenkoferstr. 9
80336 Munich, Germany
Carla.Winter@med.uni-muenchen.de