Angela Kurz' work on MST1-dependent vesicle trafficking published in JCI
First PhD degree awarded to member of IRTG 914 graduate program
06.10.2016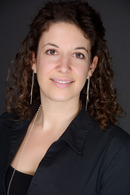 We congratulate Angela Kurz, member of SFB 914, PhD student and former student speaker of IRTG 914, who this September completed her PhD thesis with distinction. Angela is our first PhD student to graduate within the IRTG 914 graduate school.
Angela Kurz performed her thesis work in the lab of Markus Sperandio (project B01) at the Walter-Brendel-Center of Experimental Medicine, LMU. The work was performed in collaboration with other laboratories – amongst them several groups within SFB 914, namely the groups of Rainer Haas (project B05), Christoph Klein (project A08), Markus Moser (project A01) and Barbara Walzog (project A02).
Angela discovered the importance of the mammalian sterile 20-like kinase 1 (MST1) in vesicle trafficking which in turn is required for neutrophil penetration of the vascular basement membrane. Her work resulted in a first authorship publication in the Journal of Clinical Investigation.
Please also see the accompanying LMU press release.
Publication:
Kurz AR, Pruenster M, Rohwedder I, Ramadass M, Schäfer K, Harrison U, Gouveia G, Nussbaum C, Immler R, Wiessner JR, Margraf A, Lim DS, Walzog B, Dietzel S, Moser M, Klein C, Vestweber D, Haas R, Catz SD, Sperandio M. (2016)
MST1-dependent vesicle trafficking regulates neutrophil transmigration through the vascular basement membrane.
J Clin Invest. 2016 Nov 1;126(11):4125-4139
Contact:
Angela R.M. Kurz, PhD
Walter Brendel Center of Experimental Medicine
Ludwig-Maximilians-Universität München
Marchioninistr. 27
81377 München, Germany
angela.kurz@med.uni-muenchen.de
Voice: +49 (0)89 2180 76509