Angela Kurz wins the 2017 Servier Award in Microcirculation
29th European Society for Microcirculation Congress
10.06.2017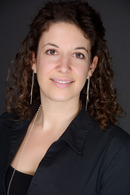 Angela Kurz was awarded the 2017 Servier Award in Microcirculation for her outstanding publication on MST1-dependent vesicle trafficking, published in the Journal of Clinical Investigation (see original news item).
The award, shared with Shengpeng Wang, was presented during the 29th European Society for Microcirculation Congress in Geneva (Switzerland). The Servier Award in Microcirculation is offered every 2 years for an outstanding clinical or basic research publication in the fields of microcirculation and vascular biology.
Angela received her PhD degree after working in the lab of Markus Sperandio (project B01) at the Walter-Brendel-Center of Experimental Medicine, LMU. She was an active member as well as student speaker of the Integrated Research Training Group (IRTG) of SFB 914 and the first member to complete her PhD within the program.
Currently, Angela does Postdoc work as Research Fellow with Wolfgang Weninger in the Immune Imaging Program at the Centenary Institute in Sydney, Australia.
---
Angela R.M. Kurz, PhD
Research Officer, Immune Imaging Program
Centenary Institute, Camperdown/Sidney, Australia
a.kurz@centenary.org.au
phone: +61 2 9565 6173